First Batch of Honda Elite & Spree
"PegR" bars ready To ship out. These will come as Pictured plus Mounting Hardware & Spacers ect.
Can be Mounted as either the Front or Rear Peg Location..
New Product...
Here's pic if PegR Bar Front Mounted & Rear Mounted
Calling it the
"PegR" Bar...
Elite $120 shipped
Spree $120 shipped
Currently 8 Available..
Also have some for Ruckus & Metro...will also be include options Soon like Color and Folding Pegs..
Message me if your Interested in One..
url=
https://postimg.cc/image/oajcgd8rr/
]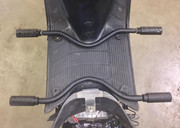 [/url]