First off, Grandpa(the member of this forum, not my Dad's Dad) gets credit for making me realize this.
If everything looks straight CHECK THE STEERING BEARINGS! Put it on the stand, get the front wheel in the air(sit on seat), and try to wiggle the handlebars, if you detect ANY play, you need to tighten the nuts holding the front end together. If the handlebars turn without any drag you might want to do this as well.
HOW TO FIX
1. Unbolt floorboard(but do not remove the floor) fairing and horn cover, remove fairing and horn cover.
2. Remove the largish bolt that holds the handlebars to the forks, pull the handlebars off and let em dangle off to the side.
Should look like this now.
3. Unbolt the ignition switch(with bracket) from the frame, let it dangle.
Now you need a big wrench and somebody to hold it on the main nut while you work on the lock nut, I believe mine was a prop stolen from the set of
Honey, I Shrunk the Kids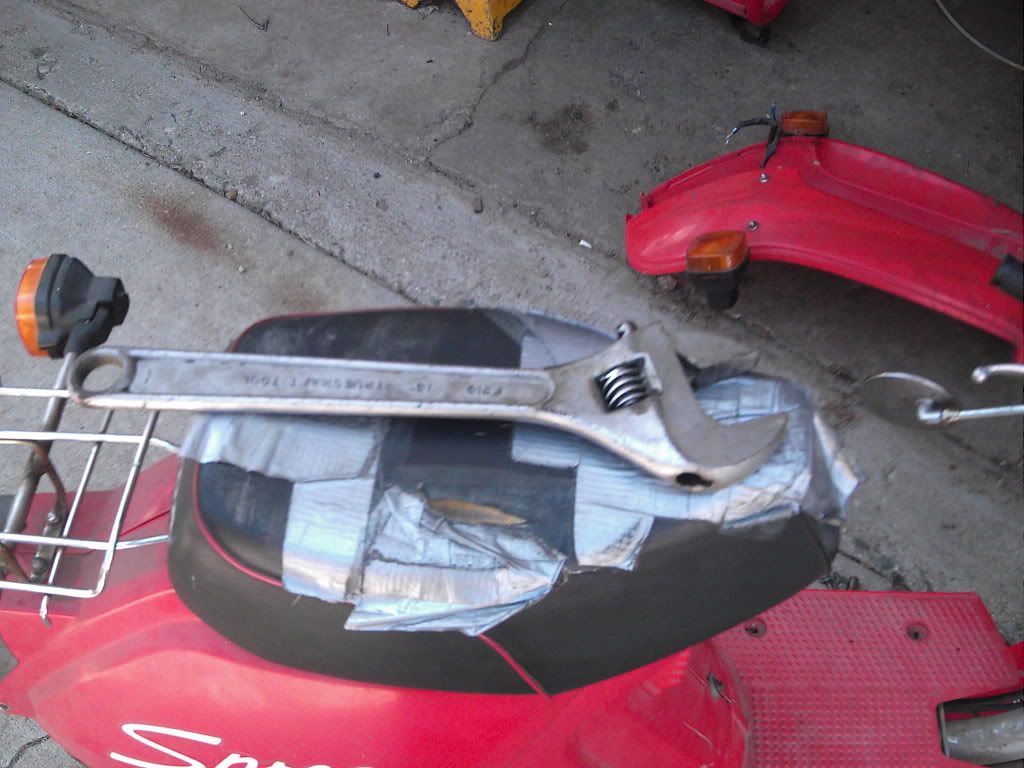 4. You now have access to the the steering bearing tension nuts, the small nut locks the big one. Hold the big nut while you back off the small one, then tighten the big nut until you have the drag set the way you like, tighten the small nut onto the big one once its how you want it. Check drag again.
5. If the bearing feel rough now you should replace them, Wheelman offers some advice in this department.
Wheelman-111 wrote:Also check for notching of the bearing races and replace if present. If it clunks several times as you swing through the steering arc, the bearings are unsafe at any speed.
6. Reassemble and enjoy
not
riding white knuckled to keep the bike steady.