Hey everyone I have finally decided to actually document my spree dio build as all of the parts arrived yesterday from graphite 9 and I got a good way through getting the motor ready last night in the shop. So here are some pis of the motor build progress. A special extra thanks to Graphite 9 for all of the guidance and parts so far on the build I couldn't have gotten this far with with out his help. I started out last nightby getting the intake windows in the block cleaned up all perfecto. My new mini pencil style air die grinder is one of the best things I ever could have gotten besides the compressor itself. Its so easy to do great port workwith it.
as you can see I got the Malossi MHR bbk installed after that. Next I got the spree is motor mount installed and then scuffed the drive covers and gave them a coat of Honda Arctic silver its prettymuch an exact match to the original spree side cover and stock wheels gave them a coat of clear this morning as well. Now the motor is stock spree looking.
the rear wheel got the same treatment last week.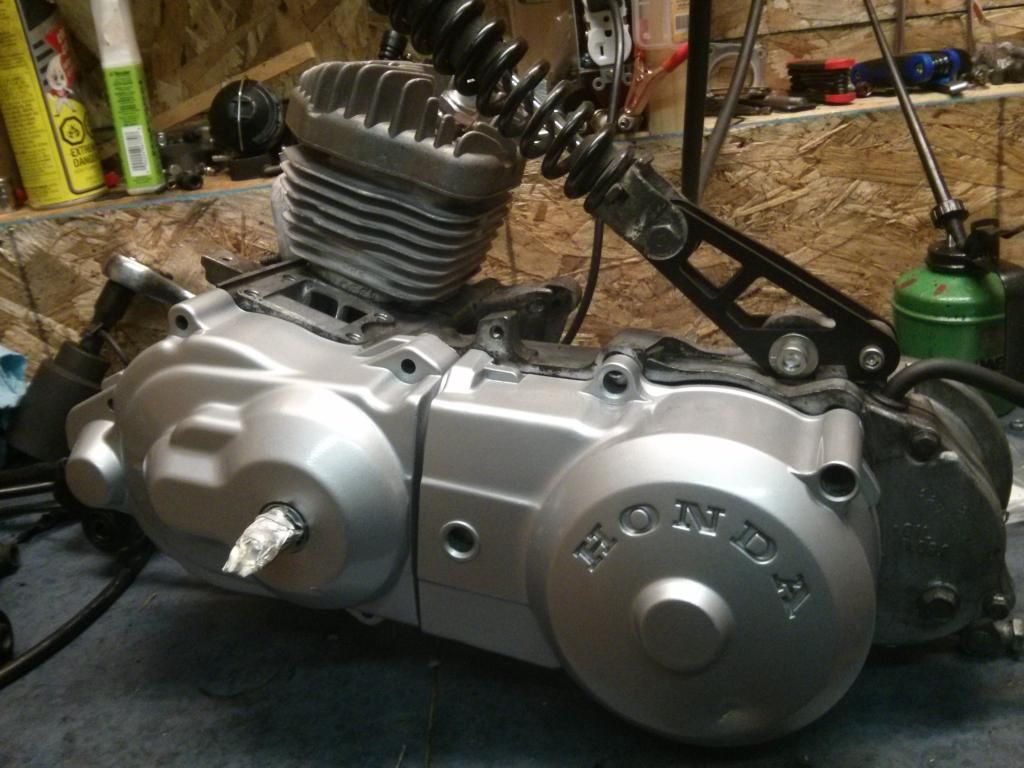 the shock extender actually solved a problem that I'm glad I found now. The rubber bushing in the block that the shock normally bolts to was worn so the rear tire that came on the motor was scalloped and toast. I got the driven pulley all serviced with a new malossi spring installed. Now I'm just waiting for the new crank seals to arrive and I need to go get bolts to attach the fan to the flywheel and the fan shroud to the motor. I figure with the motor on the bench and the variator off and the flywheel off as well now is the time to replace the crankseals and be done with it. No use in trying to run a motor of unknown milage and abuse with originalcrank seals. I would hate to burn up that mhr forthe sake of ten bucks. II'llbe sure to have some questions once I get deeper in to the build.